Customer Quotes
We are accumulating a number of photographs of cheese wedding cakes, many with messages, which can be viewed in our gallery.
Messages without photos
The Cheese Factor provided the cheese for our wedding 'cheese cake' on the 16th June. Simon and his team couldn't have been more helpful!!
I gave Simon some basic detail of what I wanted and he provided some excellent options which we went for and we weren't disappointed !! All our guests commented on how amazing the cheeses were and there was so much of it, it was excellent value for money!!
I was contacted a week before the wedding to be told that the cheese was ready for collection and they were happy to keep it up until the day of the wedding. The cheese came beautifully prepared in a cotton bag which will remain as a memento of the day!
We really cannot thank Simon and his team enough!!
Rachael Pell
Just wanted to say thank you so much for all the help in sorted out cheese for our 50th birthday party. Everyone we dealt with were extremely helpful and knowledgeable. The buffet was a huge success , so many compliments on the cheeses even if people did ignore our sign on the bouncing bomb saying it was very hot and were seen hastily seeking a cooling drink, several of our guest asked where the cheeses where from so you have some new customers.
Jan and Kat Smith
Hello Simon,
We would like to say a big thank you for providing us with the celebration cheese for our daughter's wedding on Saturday 23rd May 2015 at the Yorkshire Sculpture Park.
The day proved to be above all expectations, and the cheese was absolutely delicious. I didn't even get a taste of the Delice des Cremieres, it went very quickly and there were some lovely comments about it and all the cheeses.
Your cheeses were fantastic and your help in creating the wedding cheese cake was fantastic. Thank you again and very best regards,
Audrey and Vince Giles, Sheffield.
Dear all at The Cheese Factor, Thank you so much for the excellent cheese wedding cake you provided. We were so impressed with the quality of the cheese and the excellent service you gave us. We have enclosed a couple of photos of the finished product and look forward to recommending you to friends and family.
With love from Claire and Andrew Pinder.
To everyone at the cheese shop. Sorry it has taken so long to contact you but we realised it was an e-mail we thought everyone else had sent to you! Anyway, in September my son and his wife (Nick and Clare Faulkner) had a wonderful wedding celebration party and wanted a wedding cake of cheese. You were recommended as a brilliant cheese shop and so supplied and advised on the cheeses to use. The party was great and there were so many comments regarding the cake - it was fabulous. Here are a few photos to show you how brilliant the cake was. So a big belated thank you from all of us. Feel free to use the photos if you wish as a reference.
Regards, The Faulkners.
It is safe to say the cheese went down exceptionally well especially the Creme Delice. We have just finished eating the Lincolnshire Poacher. For anyone who doesn't fancy a traditional wedding fruit cake, cheese makes a brilliant alternative and creates a real talking point. Thanks once again for your help.
Regards, Ian
Good Evening Simon, You kindly helped us with our wedding cake for our wedding, I thought we would send you some pictures of it. As we got married in Scotland the cake was perfect and travelled very well. It was a complete hit with everyone, as you see from the pics we just dressed it simply with lovely grapes, apples, biscuits and chutneys..... it was demolished on the evening of the wedding!!! The staff in the shop when we picked the cake up were fantastic, in fact all along the service was second to none, thank you so much for making that part of our day hassle free and very very special. We have been highly recommending you ever since.
Thanks again, Brett and Laura Jenkinson,
Married at Caerlaverock Castle.
Further Information
Examples of our cheese wedding cakes are shown in the photo galleries here.
Please contact Simon on one of our telephone numbers, or by e-mail to discuss your requirements.
Tel. 01246 201203
Mob. 07970 281717
E-mail: info@cheese-factor.co.uk
Download a leaflet (this is an Adobe PDF file of 202Kb). It is designed to be printed on both sides of a sheet of A4 paper, then folded into a pamphlet format.

If you do not have the (free) Adobe Reader, you may download it :

Wedding and Food Fairs
From time to time, we attend Wedding Fairs and are able to discuss options with you - but why wait - contact Simon now. Or come and talk to us at one of the many Food Fairs / Festivals we attend.
Festivals
Did you see us at Belper in July and December, at Ilkeston in May and October, at Rotherham in September ? Or did you perhaps come to the Festival of Food at Hardwick in May ?
We provide Ploughman's lunches for the Chesterfield CAMRA Beer Festival, the Chesterfield Market Beer Festival and the Round House "Rail Ale" festival at Barrow Hill.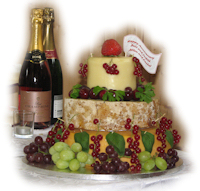 ---
Our Cheese Wedding Cakes are delivered carefully packed and with silvered boards to separate the layers. Where a cheese is not coated, and there is likely to be some seepage of fluid between layers, we will recommend some form of partial wrapping such as clingfilm or waxed paper.

We recommend a portion size of 2 to 3 oz of cheese per person. However, rest assured that any surplus cheese need not be wasted. If your guests do not keep returning for more, virtually all cheese freezes well.

There is no restriction on the number of tiers other than sheer size and stability. We have delivered cheese wedding cakes of up to six tiers in size. Most types of cheese may be used, although care will need to be taken where softer cheeses are included. Dowelling pillars can be inserted into the softer cheeses to give structural strength to support additional layers above;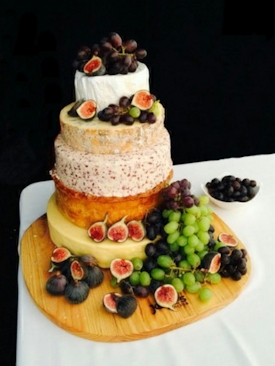 decorative wrappings can be retained around softer cheeses to prevent them losing shape as they warm in the atmosphere of a Wedding Breakfast or other celebration. Simon will happily advise on the selection and suitability of cheeses.

One of our customers included a large pork pie as one of their tiers ..... anything is possible, just use your imagination.

As mentioned in our introduction, you have complete flexibility with decoration, needing only to wrap items which may affect flavour in clingfilm or foil before insertion in cheeses. Herbs and fruits are favourite types of decoration for many people, the green leaves contrasting well with the cheeses and cheese coatings and providing a contrasting setting for brightly coloured fruits or flowers. You can choose the colours of your fruits or flowers to match the colour tone of your wedding.

The Cheese Wedding Cake will form a wonderful display centrepiece at your celebration. For those on a tight budget, it can admirably replace one course at your wedding breakfast and at the same time provide the "wedding cake".
Simon demonstrating at a Wedding Fair
Simon showed two examples of how cheese wedding cakes may be configured.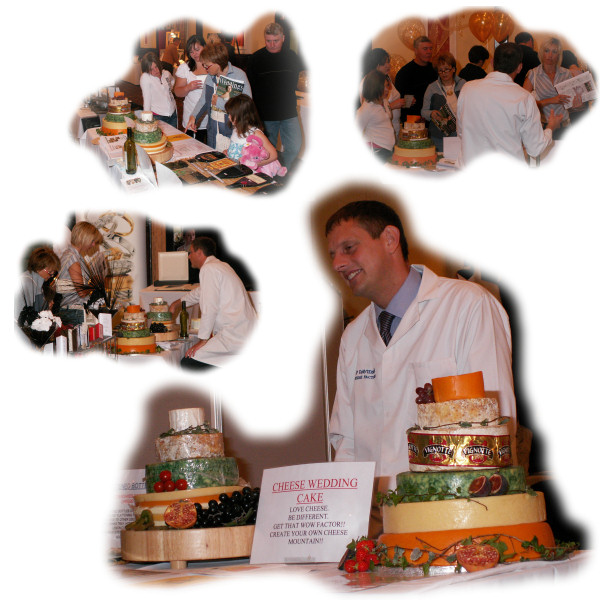 The smaller "cake" will serve around 100 people with a portion size of 2-3 oz and can be configured with both mild and stronger flavoured cheeses to suit all tastes.