Background to R.P.Davidson - Cheese Factor of Distinction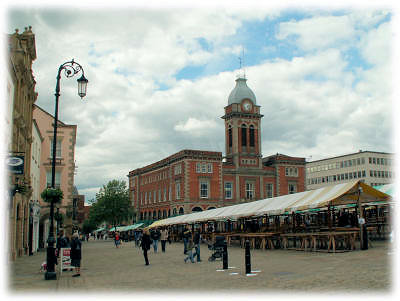 R.P. Davidson is a family owned and run traditional cheesemonger, based in Chesterfield. It was formed in 1960 by Roy Davidson, father of our proprietor, Simon, who until mid-2011 could still be seen assisting in the shop or on the outside counter in Chesterfield's historic market hall. Sadly, Roy died in August, 2011.

Our company is now run by Simon Davidson, one of Roy's sons, maintaining the fine tradition of this local supplier of specialist cheeses.

Products are sourced from all over Europe, with prime examples of British, French and other continental cheeses always available. Storage facilities in our shop have been chosen to maintain our wide range of cheese in the best possible condition. The original emphasis on the more familiar British cheeses has developed considerably so that we can now offer a selection of over 65 varieties.

Simon and his team of assistants have an excellent knowledge of cheese and will be delighted to help and advise you in your choice. When you visit our shop, if you wish, we will offer you a taste of any cheese in which you're interested to help you with your choice.
The Davidson team has always prided itself in service and you can be assured of a warm welcome when you visit our shop.