Examples
Further examples can be viewed on our Wedding Cheese Cake and Photo Gallery pages.

A family celebrated the parents' Ruby Wedding Anniversary and their elder daughter's 10th Wedding Anniversary at a joint celebration. One of our simple 3-tier Celebration Cheese Cakes was presented to them by friends. This "cake" focussing on traditional English cheeses, comprised Red Leicester, Blue Stilton and Wensleydale cheeses, decorated with mostly red fruits, basil and parsley.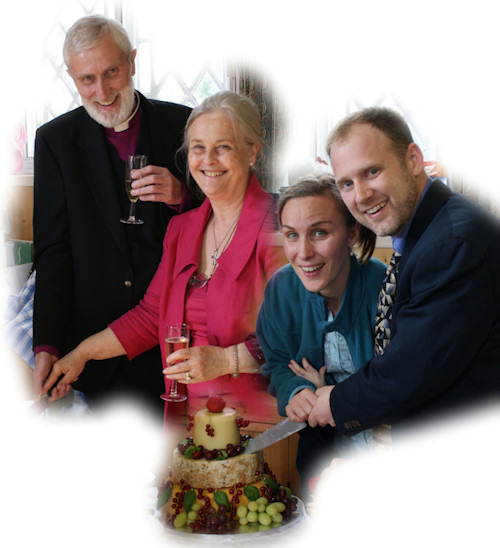 A 60th Birthday Celebration (the lady concerned is Welsh)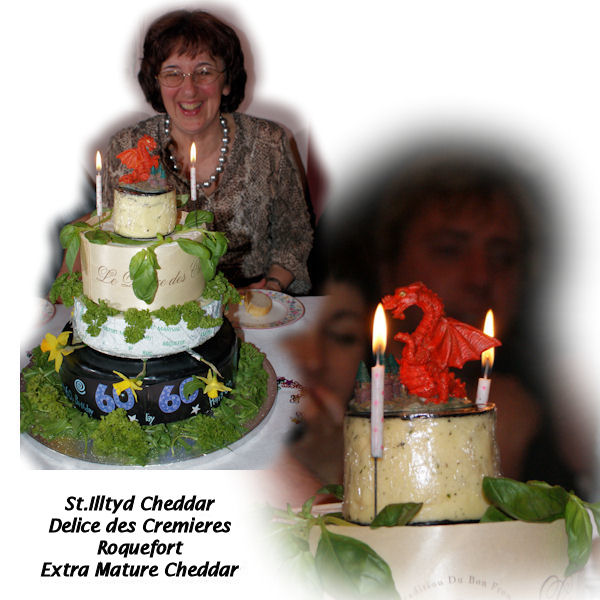 An example of a six tier cake: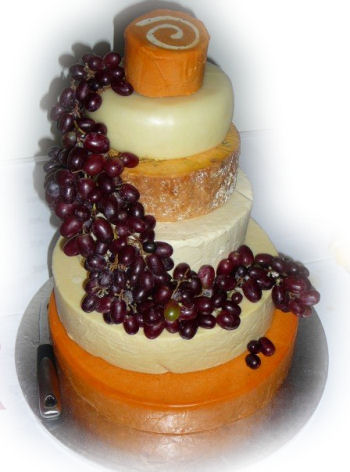 An a couple more undecorated examples: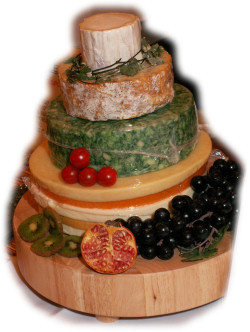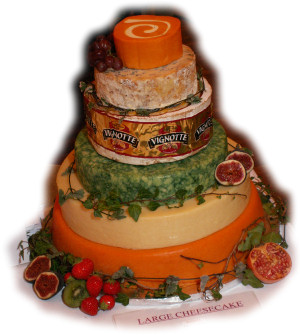 Further Information
Examples of our cheese wedding cakes are shown in the photos to the left and on our cheese wedding cake and photo gallery pages.
Please contact Simon on one of our telephone numbers, or by e-mail to discuss your requirements.
Tel. 01246 201203
Mob. 07970 281717
E-mail: info@cheese-factor.co.uk
Download a leaflet (this is an Adobe PDF file of 202Kb). It is designed to be printed on both sides of a sheet of A4 paper, then folded into a pamphlet format.

If you do not have the (free) Adobe Reader, you may download it :

Festivals
Did you see us at Belper in July and December, at Ilkeston in May and October, at Rotherham in September ? Or did you perhaps come to the Festival of Food at Hardwick in May ?
We provide Ploughman's lunches for the Chesterfield CAMRA Beer Festival, the Chesterfield Market Beer Festival and the Round House "Rail Ale" festival at Barrow Hill..