Categories
Please note that we do not normally operate a mail order service, we supply only through our town centre shop in Chesterfield. The exception is if you require a Wedding or Celebration Cheese Cake, in which case, please contact Simon, our proprietor or Georgie, the shop manageress.
Loyalty Card Scheme
Please click here for details of our Loyalty Card.
Cheeseboards
A variety of design of Cheeseboards is available for all occasions, and all the year round. All the Cheeseboards are made to your specifications from the list above.
If you'd like to order one (for collection only), please download our leaflet (see below), fill in the form and hand or to a member of staff, or post, e-mail, fax or 'phone. Download our Christmas Special leaflet here.
R.P. Davidson
The Cheese Factor
10 The Market Hall
Chesterfield
Derbyshire
S40 1AR
Tel. 01246 201203
Mob. 07970 281717
E-mail: sales@cheese-factor.co.uk
Prices
Small
£8 ( 4 cheese wedges )
Medium
£12 ( 6 cheese wedges )
Large
£16.00 ( 8 cheese wedges )
Kingsize
£25.00 ( 12 cheese wedges)
Cheesy's
£35.00 and above
We will be happy to provide you with cheeseboards of your choice!
Leaflet

Download our 2022 Cheese Board PDF leaflet or our Christmas 2021 leaflet here.
Our leaflets are in Adobe Acrobat PDF format, and are about 0.7Mb in size. They are designed to be printed on both sides of a sheet of A4 paper, then folded into an A5 pamphlet format.

If you do not already have the Adobe Acrobat reader, you may download it (free) by clicking on the button below:-:


Note that Cheeses suitable for Vegetarians are preceded with
v.
v Peakland White - our own version of the very best of White Stilton
v Smoked Blue Stilton, lightly smoked over oak barrel chippings
Shropshire Blue mellow alternative to Blue Stilton, orange curd with blue moulds
v Dovedale Blue - softer and creamier than our Blue Stilton
v Peakland White with Smokey Tomato and Garlic - Our own mild and crumbly white blended with smoked tomato and garlic - moorish
v Mild coloured cheddar (Dairy Farmers of Britain)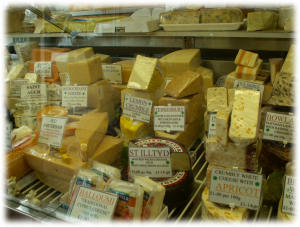 v Special Mature Cheddar - an excellent vintage cheddar with a gritty texture - from the Isle of Man - specially selected by Simon !
v Tasty Coloured Cheddar (Scottish)
v "Owd Timer" Gum tingling Extra Strong Cheese - matured for at least 9 months - a really strong Lancashire
v Farmhouse Cheddar Gorge from the Cheddar Gorge – The FINEST mature unpasteurised farmhouse !
Lincolnshire Poacher Farmhouse Cheddar - Unpasteurised traditional mature cheddar
Wookey Hole Cheddar - Cheese made in Dorset and matured in the Wookey Hole caves
v Snowdonia Black Bomber - Cheddar with attitude - smooth and creamy extra mature
v Black Watch Cheddar - similar to Snowdonia but half the price!!!
v Black Bob - our strongest cheddar cheese coated in black wax
v Cheshire (Coloured) Farmhouse - mild and crumbly
v Red Leicester Farmhouse a firmer texture with natural colouring
v Wensleydale - slightly crumbly - a favourite of Wallace
v Double Gloucester - full of flavour, but mild
v Derby - Mild and creamy
v Red Fox - Vintage Red Leicester with a twang
v Half Fat Farmhouse Cheddar -Cheddar Texture from Longmans
v Cornish Yarg - teasty cheese with a nettle leaf coating
v Crumbly Lancashire - Award winning cheese from Carron Lodge creamery in Lancashire
v Red Cobble Crunch - Red Leicester "with a crunch"
v Whisky Cheddar - Cheddar with the finest award winning Whisky
v Lancashire Waxed Bomb - a 2 year matured strong and creamy Lancashire. Will continue to mature for a further 2 years if refrigerated. Available in whole cheese only of circa 460gm. Made by Andrew Shorrock in Goosnargh near Preston.
Return to top

v Blue Stilton - Tuxford and Tebbutt - rich and creamy with a distinctive blue veining and taste - simply superb.
Derbyshire Blue - Creamier and softer than Stilton
v Stilton Chilli Bomb - blue Stilton rolled in fiery chillis (very hot!)
v Bircher Blue cheese - a soft and creamy blue cheese from Tupton, Chesterfield
Return to top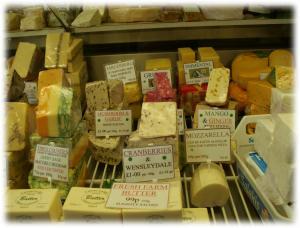 v Port Wine Derby - mild Derby cheese with a luscious port vein
v Derby Sage Traditional - How it used to be with Sage in the middle
v Derby Sage Marbled (Green) - a veined version with sage flavouring
v Cotswold - Double Gloucester with chives + onion
v Innkepers Choice - mature cheddar with pickled onion and chives *
v Lemon Crumble - Finest Wensleydale with lemon
v Red Hot Mex - Cheddar with chilli peppers
v Wolds Gold - Double Gloucester with horseradish and mustard *
v Bowland - Mature Lancashire with apples and raisins, covered in cinnamon
v Cheddar Wholenut - Cheddar with Walnuts
v Cranberry in Wensleydale - Crumbly Wensleydale with whole cranberry
v Caramelised Onion & Rioja Cheddar - Cheese to die for - Simon's favourite - from the Cheshire Cheese Company
v Chilli and Lime in Cheddar - Cheddar with hot chilli and a dash of lime
v Cheshire with Gin & Lemon - A real indulgence .... wait 20 seconds for the gin to kick in
v Sticky Toffee Cheddar - Cheddar with dates, raisins and toffee
v Charcoal Cheddar - finest mature cheddar infused with charcoal.
v Highland Herd - Garlic and Herb cheddar
v Mango and Ginger in white stilton
v Apricots in white stilton
v Stripey Jack - 5 layers of cheese - Cheshire, Leicester, Derby, Double Gloucester and Cheddar
v Smoked Lancashire - lightly smoked over whiskey barrel chippings.
v Smoked Cheddar - red cheddar with a creamy texture, not too heavily smoked.
Return to top

Camembert - Le Grande Rustique - Strong and Soft
Roquefort - one of the finest cheeses in the world, made from sheep's milk and matured in caves in the Roquefort region
Traditional French Brie - Mild and creamy brie from France
Smoked Brie - 55% smoked over Whisky barrel chippings *
Delice des Cremieres - triple-cream - with a light, almost mousse-like texture
Morbier - A raclette cheese, soft and subtle with a delicate taste
Raclette - similar to Morbier without the ash
Comte - 12-14 months old, semi-hard full flavour from the Jura region
Saint Agur - Blue and luscious. Almost spreadable
Munster - A soft wuashed rind cheese - smelly ! (similar to Stinking Bishop)
Return to top

Edam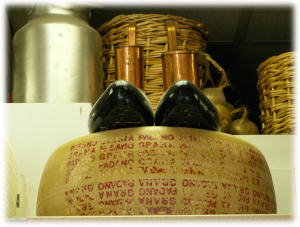 - well known Dutch cheese
Old Amsterdam - An extra mature Dutch Gouda cheese with a rich and robust flavour
Jarlesberg Norwegian. - A sweet nutty cheese - the one with the holes
v Gjetost - A mix of cows & goats milk to make a rich caramel taste cheese
Gruyere - Swiss. Sweetish flavour & a typically nutty Flavour
Mozzarella - Italian.Excellent for cooking and salads
Provolone Picante (older) - medium texture cheese often used in cooking
Parmesan Reggiano (in a block) Made in the Bologna Region of Italy. The Best!
v Vegetarian Parmesan - At last we've found a good vegetarian option we're happy to sell
Greek Feta A mix of 90% sheep 10% goats milk
Danish Blue
v Montagnolo Affine - German soft blue - Supreme Champion Cheese 2013
Gorgonzola Dolce - A smooth creamy gorgonzola from Italy (Dolce means sweet)
Manchego - Spanish sheep's milk hard cheese
Pecorino Romano - Traditional Italian Sheep's milk cheese , not as hard as Parmesan >
Chevre Goat's Log - The classic soft goat cheese in a rolled log shape

Return to top

v Lancashire Waxed Bomb - 2 year matured strong & creamy - whole 460 gm cheeses only
Red Windsor - Cheddar marbled with Elderberry Port Wine
v Whisky Cheddar - with the finest Whisky
Vegan Cheese
Yes, we do stock Violife 100% vegan cheese
A good Yorkshire Family pie of around 450g £2.50

Farmhouse Butter - Slightly salted, from our favourite creamery. £1.90 per 250g
Return to top

Jars of Lemon Cheese (340g/12 oz) £3
Hendersons' Relish (284ml) £2.30
Quince Paste (120g) £2.60
Locally sourced honey - clear - £6.00
Yorkshire Parkin Cake (approx 400g) - £1.50
Orkney Oatcake Biscuits - thins - 100g - £1
Orkney Oatcake Biscuits - thicks - 200g - £1.50
Stag triple pack cheese biscuit selection £6.90 for 450g of £2.90 for a single pack
Olive Pouches - four flavours - (in sunflower oil, 220g net) £4.50

Brampton Brewery Beers

A selection of beers available which may from time to time include
Impy Dark, Wasps Nest and Speciale -
£3.50 each or
£10 for 3
Bradfield Brewery Beers
A selection of beers, including Farmers Blonde and Belgian Blue
£3.30 each or £9 for 3
Silver Brewhouse Beers
A selection of beers, £3.50 each or £10 for 3
Ashover Cider
A selection of flavours, £3.30 each or £9 for 3
Chesterfield Gins
A selection of artisan gins - £28 to £29 for 50cl
Or why not try 3 assorted flavours in 20cl small bottles for £40 (£14 each)?
Flavours - Original, Lemon Sherbert, Master Blend, Pomegranate, Cherry, Strawberry Candyfloss, Mojito
Hampers
Please ask for details.
You can have your cheeseboard presented in a wicker basket - Small @ £3, Medium @ £4.50 or Large @ £6
Chutneys:-
Chutneys - we have a range of Mrs Bridges Chutneys and Marmalades @ £3.50.
Also Drivers Chutney £3.50 each or Gift Pack at £11.