New joint venture - Stilton returns to Derbyshire !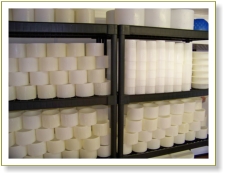 We've joined with two experienced cheese makers and the Hartington Cheese Shop to re-establish the manufacture of Stilton (and other) cheeses in Derbyshire. Production started in May 2012 and will initially feature local cheeses, made in the traditional manner. White Stilton will be the next to be introduced as soon as we have accreditation, and Blue Stilton (the King of Cheeses) will be introduced later, as will even more cheeses.
Other Interesting cheese links
The British Cheese Board for information on all kinds of British Cheese.
The Cheese Web and in particular, the British Cheese Awards, Cheeses on The Green and the Great British Cheese Festival.
We supply real Cheddar from the Cheddar Gorge, made in the traditional way from the best locally sourced materials.
We sell Stilton, the "King of Cheeses" from our own creamery in Hartington which came on stream with Stilton late in 2012.

Beer is also an excellent drink to consume with our cheeses and from Brampton Brewery and Bradfield Brewery, these are perfect examples of locally produced beers.
Gin, whether in original flavours or in the newer styles, are also a great accompaniment to our cheeses. We stock gins from our local Derbyshire Distillery, based in Staveley.
We no longer sell Pete Welbourne's Lincolnshire Plum Bread - a fruit loaf which is perfect with cheese - but you can still make enquiries of him for nearby stockists.
Further links will be added shortly. Please revisit our site.
Other relevant Links
We are suppliers of Ploughman's Lunches to the Annual CAMRA Chesterfield Beer Festival at the Winding Wheel and to the Annual CAMRA Chesterfield Markets Beer Festival.